Pour over coffee has been embraced by the specialty coffee scene in recent years and there is much discussion about the best techniques and tools to use.
But the filter method isn't just for competitions and specialty coffee shops. At heart, it's a straightforward way to make a delicious cup of coffee. Whether you're a new home brewer or a seasoned barista, drip coffee can work for you. Take a look at this comprehensive guide to brewing pour over coffee.
The pour over method involves pouring hot water through coffee grounds in a filter. The water drains through the coffee and filter into a carafe or mug. Pour over is also known as filter coffee or drip coffee, although these terms also include batch brewers.
What sets pour over apart is that it is made by hand-pouring the water over the coffee. So you may hear it called hand brewing or manual brewing.
The technique has been commonly used in Europe since the 1900s and elsewhere for much longer, but was "rediscovered" by the specialty coffee movement in recent years.
Espresso is generally thicker than coffee brewed by other methods, with a viscosity of warm honey. This is due to the higher concentration of suspended and dissolved solids, and the crema on top (a foam with a creamy consistency). As a result of the pressurized brewing process, the flavors and chemicals in a typical cup of espresso are very concentrated. The three dispersed phases in espresso are what make this beverage unique. The first dispersed phase is an emulsion of oil droplets. The second phase is suspended solids, while the third is the layer of gas bubbles or foam. The dispersion of very small oil droplets is perceived in the mouth as creamy. This characteristic of espresso contributes to what is known as the body of the beverage. These oil droplets preserve some of the aromatic compounds that are lost to the air in other coffee forms. This preserves the strong coffee flavor present in the espresso. Espresso is also the base for various coffee drinks—including caffé latte, cappuccino, caffè macchiato, caffè mocha, flat white, and caffè Americano.
Espresso has more caffeine per unit volume than most coffee beverages, but because the usual serving size is much smaller, the total caffeine content is less than a mug of standard brewed coffee. The actual caffeine content of any coffee drink varies by size, bean origin, roast method and other factors, but a typical 28 grams (1 ounce) serving of espresso usually contains 65 milligrams of caffeine, whereas a typical serving of drip coffee usually contains 150 to 200 mg.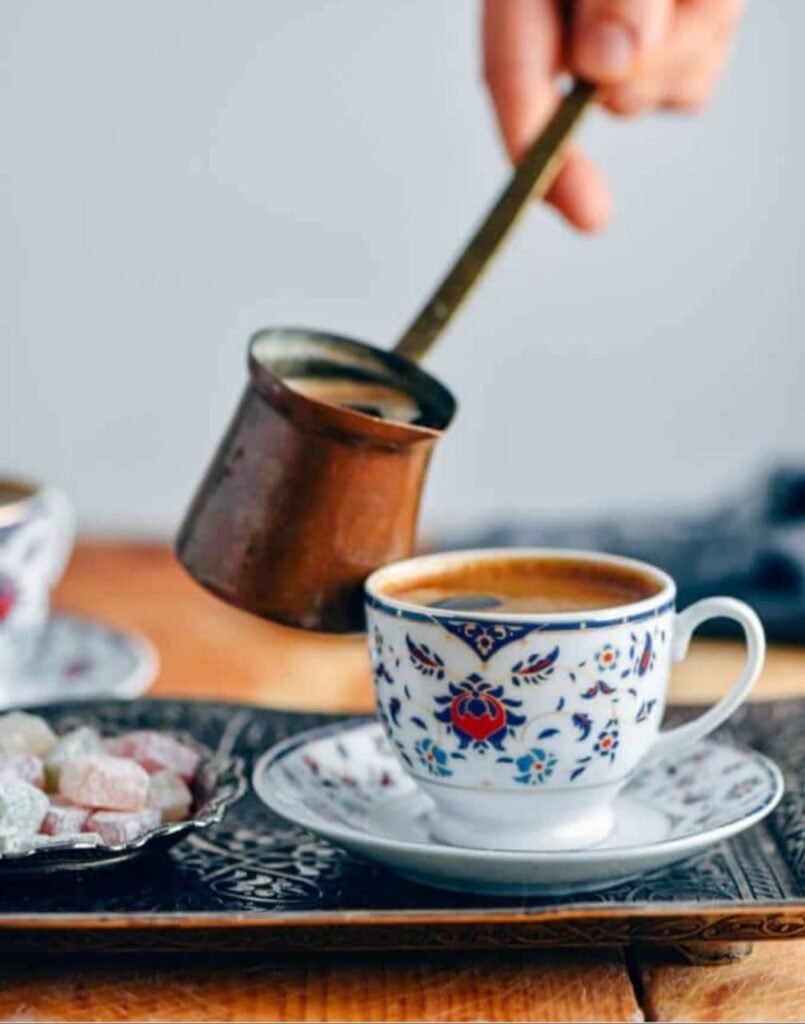 Turkish coffee is a style of coffee prepared in a cezve using very finely ground coffee beans without filtering.
Coffee and water, usually with added sugar, is brought to the boil in a special pot called cezve in Turkey, and often called ibrik elsewhere. As soon as the mixture begins to froth, and before it boils over, it is taken off the heat; it may be briefly reheated twice more to increase the desired froth. Sometimes about one-third of the coffee is distributed to individual cups; the remaining amount is returned to the fire and distributed to the cups as soon as it comes to the boil. The coffee is traditionally served in a small porcelain cup called a kahve fincanı 'coffee cup
The amount of sugar is specified when ordering the coffee. It may be unsweetened (Turkish: sade kahve), with little or moderate sugar (Turkish: orta şekerli), or sweet (Turkish: tatlı). Coffee is often served with something small and sweet to eat, such as Turkish delight. It is sometimes flavoured with cardamom, mastic, salep,or ambergris.A lot of the powdered coffee grounds are transferred from the "cezve" to the cup; in the cup, some settle on the bottom but much remains in suspension and is consumed with the coffee.
Arabic coffee is a version of the brewed coffee of Coffea arabica beans. Most Arab countries throughout the Middle East have developed distinct methods for brewing and preparing coffee. Cardamom is an often-added spice, but it can alternatively be served plain or with sugar..
There are several different styles to brewing the coffee depending on the preference of the drinker. Some methods keep the coffee light whereas others can make it dark. Arabic coffee is bitter, and typically no sugar is added. It is usually served in a small cup that is adorned with a decorative pattern, known as a finjān. Culturally, Arabic coffee is served during family gatherings or when receiving guests.
Arabic coffee is ingrained within Middle Eastern and Arab culture and tradition, and is the most popular form of coffee brewed in the Middle East. It originated in the Middle East, beginning in Yemen and eventually travelling to Mecca (Hejaz), Egypt, the Levant, and then, in the mid-16th century, to Turkey and from there to Europe where Coffee eventually became popular as well.
A French press, also known as a cafetière, cafetière à piston, cafeteria a stantuffo, press pot, coffee press, or coffee plunger, is a coffee brewing device.
The modern French press consists of a narrow cylindrical beaker, usually made of glass or clear plastic, equipped with a metal or plastic lid and plunger that fits tightly in the cylinder and has a fine stainless steel wire or nylon mesh filter.
A French press works best with coffee of a coarser grind than does a drip brew coffee filter, about the consistency of cooking salt. Finer coffee grounds, when immersed in water, have lower permeability, requiring an excessive amount of force to be applied by hand to lower the plunger and are more likely to seep through or around the perimeter of the press filter and into the coffee drink. Additionally, finer grounds will tend to over-extract and cause the coffee to taste bitter.
A vacuum coffee maker brews coffee using two chambers where vapor pressure and gravity produce coffee. This type of coffee maker is also known as vac pot, siphon or syphon coffee maker, and was invented by Loeff of Berlin in the 1830s. These devices have since been used for more than a century in many parts of the world. Design and composition of the vacuum coffee maker varies. The chamber material is borosilicate glass, metal, or plastic, and the filter can be either a glass rod or a screen made of metal, cloth, paper, or nylon. The Napier Vacuum Machine, presented in 1840, was an early example of this technique.While vacuum coffee makers generally were excessively complex for everyday use, they were prized for producing a clear brew, and were quite popular until the middle of the twentieth century. Vacuum coffee makers remain popular in some parts of Asia, including Japan and Taiwan.
Popular with coffee enthusiasts worldwide, the patented Aero Press is a new kind of coffee press that uses a rapid, total immersion brewing process to make smooth, delicious, full flavored coffee without bitterness and with low acidity.
All you need is a strainer, hot water and coarsely ground coffee. … The channi method makes the process of brewing freshly roasted coffee quick and simple, so you can enjoy a better brew at home!
Easy and cheap, channi coffee is great for people who are new to brewing coffee at home and don't have any equipment. … This method is particularly well-suited for people who are looking to switch from instant coffee but don't want to invest in brewing gear just yet.
Indian filter coffee is a coffee drink made by mixing frothed and boiled milk with the infusion obtained by percolation brewing of finely ground coffee powder in a traditional Indian filter. The drink is also referred to as Madras filter coffee, Kumbakonam degree coffee, Mylapore filter coffee, Mysore filter coffee , Palakkad Iyer coffee or South Indian Filter Coffee (Kaapi) .Outside the country of India the term "filter coffee" may refer to drip brew coffee, which is a distinct form of preparing coffee.